En Route to Your New Advertising Plan
You have this wonderful brand that presents a beautiful logo and a user-friendly, responsive website, but now what? You need to drive people to this new site!
We often help clients create an entire marketing strategy because a logo and website is just not enough to compete in today's market. You need to be there when people are searching for your business or services. You don't want people to have to seek you out and be hard to find, and a new website is just 1 step in the right direction. So now let's advertise your services with building the following digital initiatives into your advertising plan: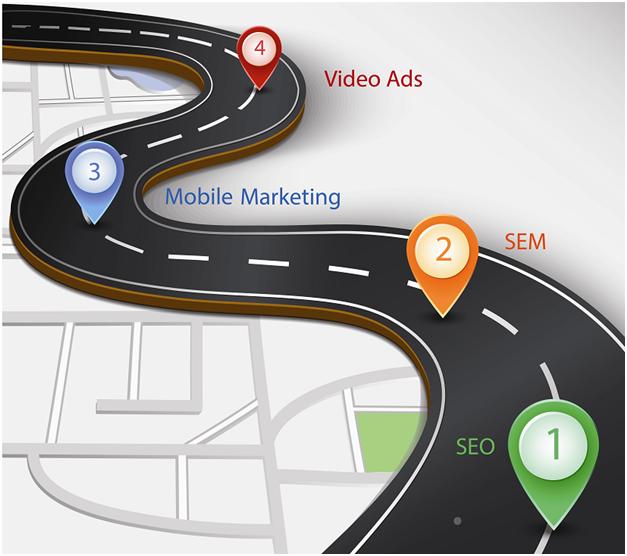 SEO (Search Engine Optimization)
This is going to help you appear organically on search engines. You definitely want to have SEO done on your website before it is published because it will help gain traffic. You can also perform SEO monthly. This helps to ensure you have the most searched for keywords in your content and will help you move up on search engine rankings.
SEM (Search Engine Marketing)
Put your business in front of the right audience at the right time. For example, if you sell mattresses and someone is searching for mattresses in Google, your ad will display on the page increasing the chances of them coming to your website. This is especially important if your website is new and doesn't appear on the first couple pages of the Google search results.
Mobile Marketing
If you haven't thought of implementing mobile marketing, you truly are missing a great opportunity. You can send ads to people right around your business, literally putting up a virtual fence and anyone who comes in the fence will see your ad on their mobile device. Not only can you send them 1 ad at the right place and time, but you can also "remarket" them and continue to send them ads for a period of time. Mobile marketing is a very powerful tool.
Video Advertising
A text or static image ad is not going to help you stand out from the "clutter." Whether you are investing in a campaign on Facebook or Google, make sure you get the most bang for your buck and display a video that will catch more attention than a static ad. The video ads don't need to be shot by a professional, as long as you have a good camera phone, you can simply shoot them yourself, upload them onto YouTube and use them for your ads!